In 1972, the activities of the group Lasting Weep were beginning to develop and were becoming more and more important. And then suddenly, the band started to split into 2 clans… This is how "Maneige" was born.
After many changes in the lineup of musicians, Alain Bergeron, who've met Yves Léonard at Vincent D'Indy, invited him to join the band as the bass player. Jérôme Langlois then asked me to become the drummer, so I asked Paul Picard to join in and play percussion; This is how we became "Maneige". Vincent Langlois would sometimes play piano for some tunes when his brother Jérôme played clarinet. Denis Lapierre, who was our sound engineer, would later come to play the guitar as a guest musician and played from the mixing desk location when we were doing shows. On December 29th, 1973, my daughter Sylvie was born at the Lasalle hospital.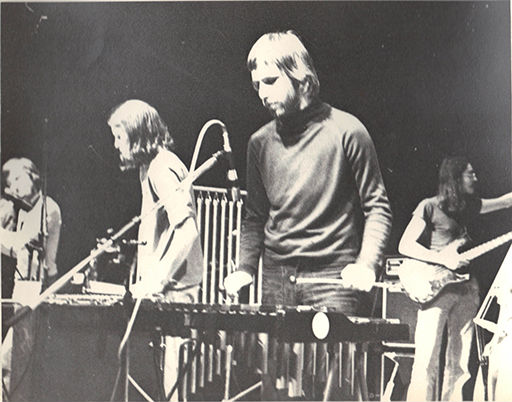 During my musical studies at the Conservatory of Montreal, I was pursuing my career with the band who were playing as opening act for international groups such as "Ekskeption" at Centre Sportif of the U.M., "Soft Machine" at Maisonneuve College, "Deodato" at the Place des Nations and finally, "Gentle Giant" at the Montréal Forum.
Here are some Youtube links :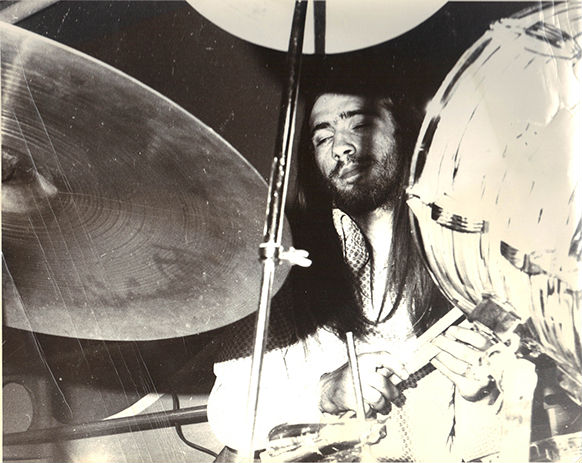 The Capitol record company signed us up and gave us Lee DeCarlo as a producer. We had to go to Toronto to record our first 2 studios albums:  « Maneige » and « Les Porches » . You can find both of them on the Progquébec website.
You will also find two live albums, made from remastered tapes : « Live à l'Évêché » and  « Maneige Les Porches LIVE ».  We recorded more than six complete studio albums in total, all of which you can order directly from that site.
 In 1976, the group played on the biggest stage of la "Place des Arts" as a solo act; it was the confirmation of our talent.
Then in 1978 and 1979, I think that those were my best years in the band; we did a tour in Ontario and after that in France. We also did a Canadian tour that led us to play in Pittsburg. We were promoting 2 studio albums, this time around recorded in the province of Québec: « ni vent…ni nouvelle » and « Libre service ».
In 1979, another album appeared on the market « Composite » Live , made from recordings of a show in Bromont and another one at the Outremont theater.
1980 was a difficult year emotionally because I had to leave the band. It was too hard to meet both ends when you have a family. I had to offer my services to Disco bands and even Bavarian bands to make enough money. Even though "Maneige" was somewhat big on the scene, we couldn't make money that much, maybe due to the song format and style. The band went on and recorded another album, on which I didn't contribute: « Montréal 6 am » .
I got back to Maneige in 1981 and we were scoring music for movies now. We composed the score for 2 movies by Yves Simoneau: « Québec on a sunny side», and « Les yeux rouges » .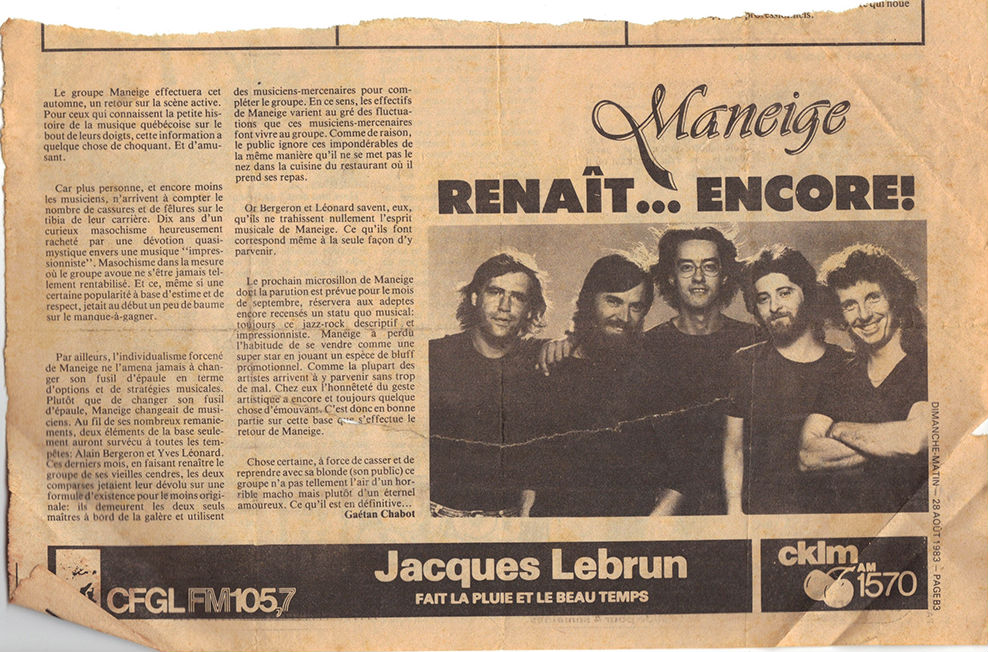 A lot of changes would shake the band up, but we have to wait till 1983 to see Maneige rising out of the ashes. After 3 or 4 keyboard players, 2 drummers, 3 percussion players, the band would momentarily stabilized itself to produce the album « Images », which was recorded in the famous Morin Heights Studio with Paul Northfield at the mixing desk.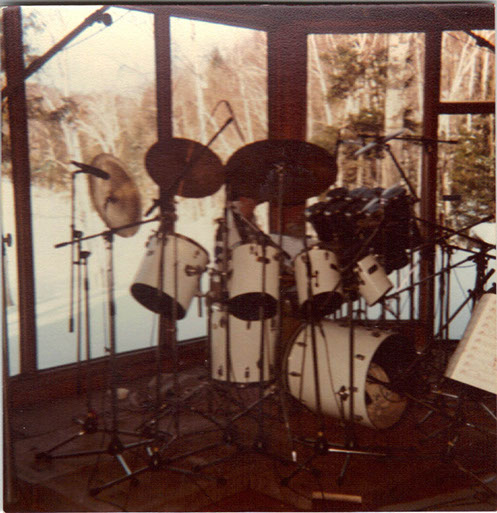 This was my "Impact" drum set that was in the studio at Morin Heights; my good friend Richard Robitaille made it from parts of my old Ludwig, one that he'd put to pieces….
Here's a picture that shows us playing one of the few last shows we ever did. It was in Québec City with Alain Bergeron, Yves Léonard, Mégo and Michel Lefrançois.