In 1974, I had to leave my sideman duties of featured artists to hone in on my final examination studies in percussion at the Montreal Music Conservatory. So, I had to be part of all the musical ensembles of the institution. I made my debut in jazz "L'ensemble de jazz du conservatoire" under the direction of Nick Ayoub. I also had to take part to all the rehearsals and concerts of the orchestra (symphonic), both younger and older students registered there. I had the chance to do some experiments in the classical field with the "Orchestre du Canada". I also worked a little in small clubs with Shakey's All band (Blues).
In 1975, I've beccome a freelance musician. So, I started to accompany touring artists such as (the late) Claude Léveillée, then Raoûl Duguay. I had an experience making the music for a play called: "Le Bonhomme 7 heures" at the "Théâtre de Quat'Sous" . There was also the mega-shows for the St John Baptist day on the mountain (Mount-Royal, Montreal, Qc) with Raoûl Duguay and Maneige.
I also participated in recordings of music for the television series "Olympic Games Magazine" and "Y'a pas de problèmes" under the supervision of Herbert Ruff. I had the chance, and I must point out that this is where I got more disciplined, so to speak, with the wonderful musician that was "Uncle" Herbert. That same man whom I had listened to in my childhood in "La boîte à surprises". This gentleman had so much experience, as he was there from the beginning of television in the 50s, and he was so used to working live. There was never a question of having a second take; we listened only to a few measures that we had recorded and and he would always say: "Ha, that's fine!"
We never redone anything and then he would make me add some percussion tracks over my drum tracks. In the time span he was allocated in the studio to record only one tv program, we sometimes recorded 3 or 4. When I was working with him, I always went to bed very early on the night before…
I also had the chance to experience the film industry in spite of myself. Because of an ad Maneige did in a local newspaper, I appeared at the center of the photo and a film producer noticed me. So, he contacted the agency the group was signed to to have my number. He made me do some tryouts and called me a few days later to hire me as the lead actor. I had to play a terrorist. The movie was: "M'en Revenant Par Les Épinettes", by François Brault.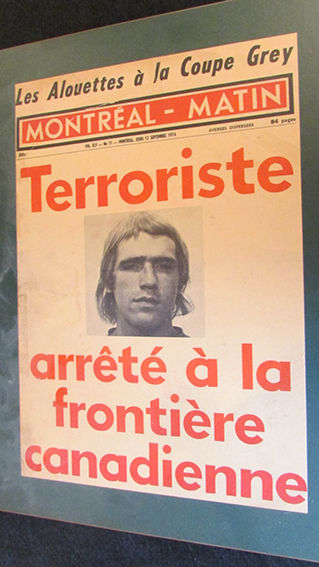 What a surprise! Being sure not to be hired as an actor, I suggested him to compose the soundtrack. But he had already organized that side of the project before knowing me. Still, I created a musical theme for my pleasure that can be heard on the album "Ni vent ni nouvelle" (Maneige). That tunes was called "Les épinettes".
Two years later, I saw an ad for the movie coming to theaters in Montreal. As I hadn't seen it, I was very curious and I paid the $3 entrance fee and I finally saw it.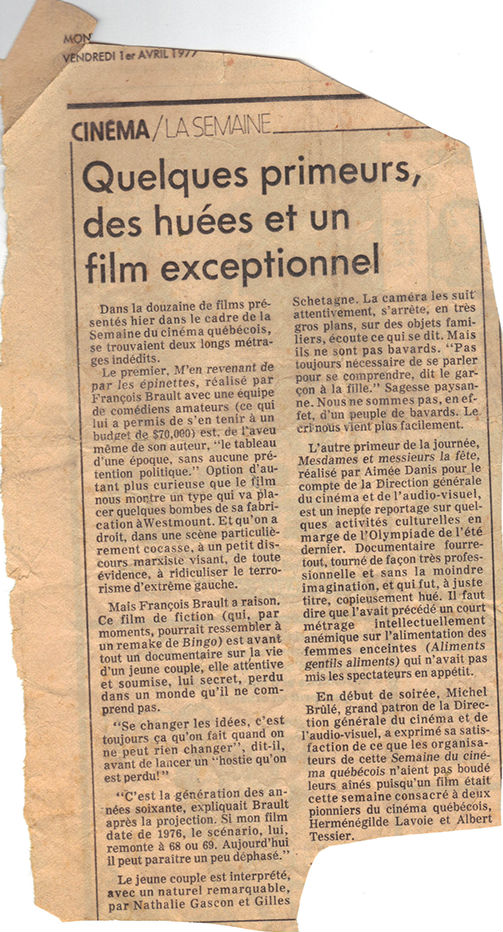 1976 was a prolific year. I had the honor to be part of the musicians who accompanied The Great 5 at St-Jean Baptiste on the Mountain (300,000 spectators). Then I toured Quebec and Northern Ontario with Jean-Pierre Ferland. In 1977 I had the great pleasure of accompanying Marie Philippe, Denis Larochelle, and André Vincelli.
Between 1978 and 1986, Pierre Labelle and Louise Latraverse at Ste-Marguerite theater, Francois Guy, Renée Martel, Michel Rivard, Jérôme Langlois (himself a former Maneige bandmate who often urged me to color his creations), Régis Simard, Benny Barbara, Paul Beauregard, Régis Bélanger, Jean-Pierre Fréchette, David Scott, Sylvie Jasmin, Michel Brouillette, Wharren Stolow, Michel Dulac. It was quite varied in the musical style department…
I also experienced the music of popular and folk dances by working at the Old Munich (Bavarian) with orchestras that rather consisted of European musicians like Hubert Renfert, Tony Perko, Carl Binoveck. I also often worked at Club Helios which specialized in social/line dancing.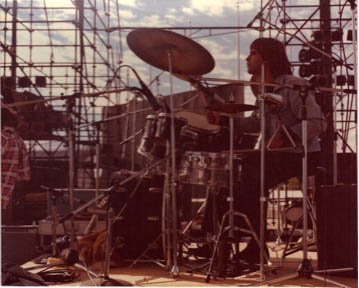 With Jocelyn Bérubé at Parc Jarry «Sur le gazon» for Radio-Kébec.
In 1987, Johnny Farago decided to hire in his nightclub "La vie en rose", the  Ballroom Orchestra of Pierre Millette in which I was playing for a number of years. I then met Alfredo Giacomo Farago, who was playing bass. We were the house band, so, beside accompanying Johnny every night, we had to play for each acts that were playing there every week.
 Almost all of the entertainers that were famous during this time played there! It went from (the late) Dino-l'Espérance to (the late) Rosita-Salvador, and (the late)Claude-Blanchard just to name a few.
 And, it's at that moment that I decided to undertake more studies at UQAM that will lead to obtain a degree in music and a teacher's license …
In 1988, I was very busy getting the public to know my new group: "Schetagne".
And then, in 1989/90, I started my career as a music teacher for elementary school kids, as well as accompanying many artists such as: Les Bougalous, Patrice Bissonnette, Pierre Millette's Ballroom Orchestra, Sylvie Jasmin, Duke, Revue Cabaret, Jo Bocan, The Anzo Matera ensemble, Carl Tremblay, Jerry Devilliers Sr, Dan Bigras, Tony Perko, Martin Perron, Roland Du Sablon, Greg Morisson, Régis Bélanger's Big Band.
In 1991, I had an encounter that would change the course of things. I was teaching music full time and my group, "Schetagne", was beginning to slow down due to a lack of good management. I started to play with Stephen Faulkner and a guy named Jean Cyr was playing bass. This union lasted for 10 years.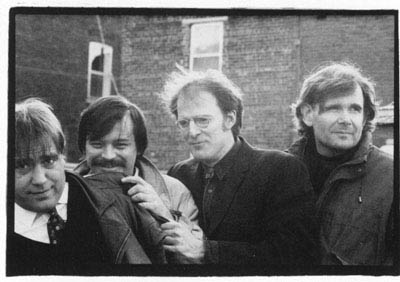 We recorded two albums : "Caboose" (FB 1001-2) and "Tessons D'auréole" (IMP 01). The band also played on the Stephen Faulkner album called: "Cassonade Anthologie 1975-1992″(Qué-2-1101)
We also played on some TV shows like: "Multipiste" on the French Radio-Canada channel, and the last show I would do with Stephen, "Les Choix de Sophie" on Radio-Québec (now Télé-Québec).
We went a few times to Vancouver and did many major shows such as the "Festival of the Americas" and the Museum of Civilization in Quebec City, the "Lion D'Or", Lafontaine park and Maisonneuve park for the CSN (National Union Confederation) to more than 75,000 spectators.We played at "L'Olympia" in Paris (France) during the "Jeux de la Francophonies", Place des Arts (Theatre du Maurier), Francofolies in Montreal reunion tour with "Plume et Cassonade", La Licorne. In fact, we just played everywhere!
In 1995, we played for the St-Jean Baptiste show on the "Abraham Plains" in Québec city with Karen Young, Normand Lachapelle, and Carl Tremblay (125,000 spectators).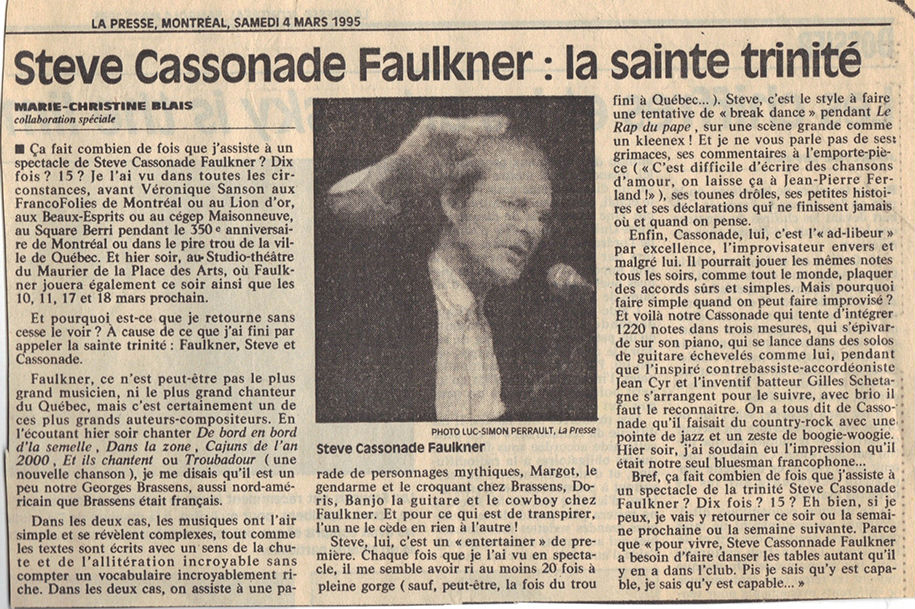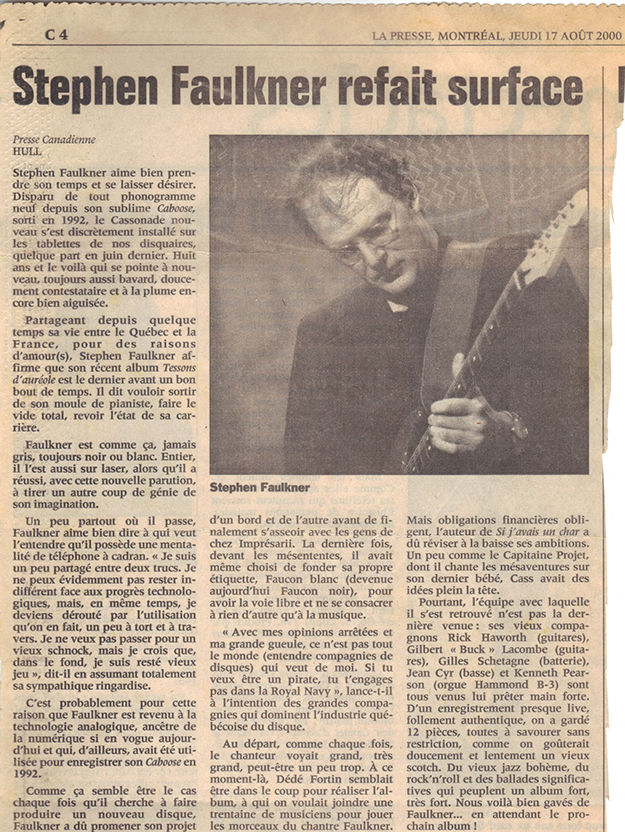 Through it all, I had the chance to experiment with all kinds of music such as Dixieland music with Sweet Dixie, Red Hot Dixie, Bourbon Street, The Aces of Dixieland Orchestra, Dixie band for the Alouettes of Montreal during 12 years .
Blues, with Carl Tremblay, Dan Bigras, Greg Morrison, Little Jo and the Hurricanes and Duke.
Jazz, with Pierre Bélisle, Jacques-André Giroux, Yvon Limoges, Denis Beaupré Orchestra, Guy Limoges, Bourbon Street Cabaret Pte-Claire.
Pop, with the band Impact, le P'tit Barda, Bob Carlisles, Roger Sylvain's Gala Orchestra at the "Medley" in Montréal, Johanne Lefebvre, Benoît Gauthier, Denis De Luca, Montréal's Pop Accordions Orchestra, Jean Nichol, The Platters, The Bougalous, Jo Bocan, Sylvie Jasmin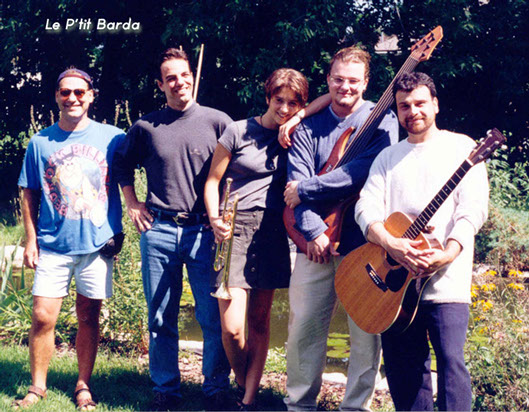 Big band, with Jerry Devilliers Sr., Pierre Millette's Ballroom Orchestra, Régis Bélanger
Wedding band, with Anzo Matera's Ensemble, , Tony Perko, Martin Perron, Roland Du Sablon
As for original music, in 1990, I played and produced a demo of compositions from Patrice Bissonnette.
Even though Jérôme Langlois left Maneige in 1976, I always continued to play with him, either on stage or in the studio.
I never stopped writing music and I still continued to do my own compositions even if I haven't shared them, yet…
In 1993, I composed and produced original music that served as a soundtrack for 2 VHS tapes (that was before dvds, lol) of Aerobic exercises made by Josée Lavigueur; it sold more than 50,000 copies.
In 1994, I was hired to compose the music for the pedagogical document "Clac-sons".
2002 marked the beginning of the "Tambours du Patrimoine", based in Montreal. On this occasion and for that band, I wrote the piece "Empreinte": a three voice Canon. I wrote it that way because there were three bands that were called "Les Tambours du Patrimoine" : one in Québec, one in Ottawa, and finally, the Montréal one.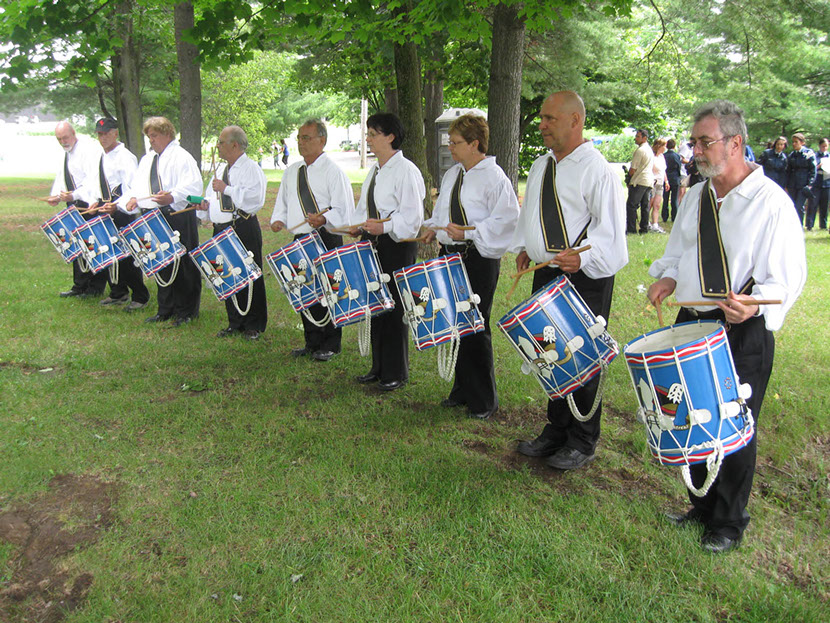 Here( http://vimeo.com/78264145 ), Marc Lortie used "Empreinte" as a soundtrack for a slideshow he made.
The group played a few times at the "Festival international de la percussion de Longueuil".
In 2003, was formed an instrumental group that was called "Idemjazz". The band played in public only twice and five years later, in 2008, recorded and produced a CD "1" (Green Glass records CD 001). I still have a few copies left, if you want one…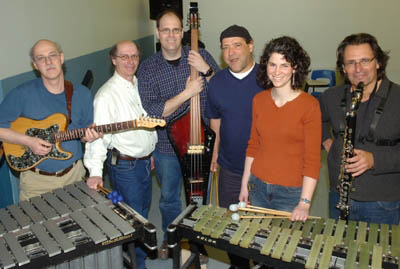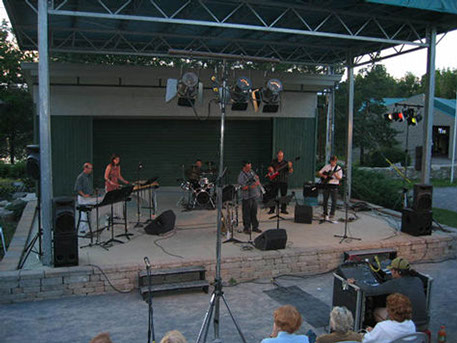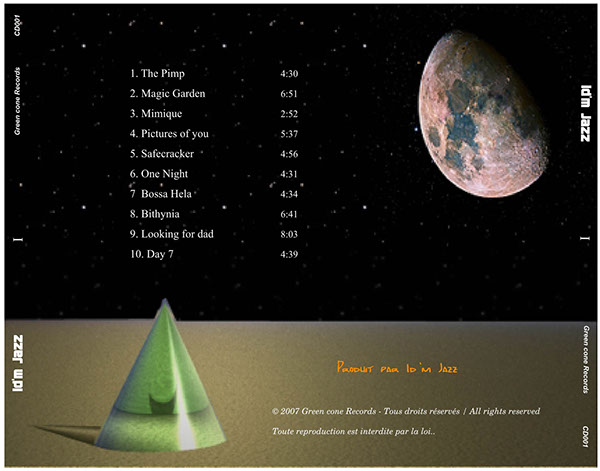 Idemjazz was only playing original tunes, composed by the different members of the band. It was a concept that was reminiscing me of my "Maneige" years. All the members of the band were music teachers and had also some family obligations to attend, so it became very complicated to rehearse/play new compositions. It was also hard to book a 6 piece band with a marimba and a vibraphone; both instruments are a bit voluminous. As with all band small quirks, the passionate flame for staying alive and playing together slowly died….
2004 marks the birth of Blues Delight who's still alive and well to this date. In addition to live performances, Blues Delight produces original blues songs on records. The group currently has three albums to his credit.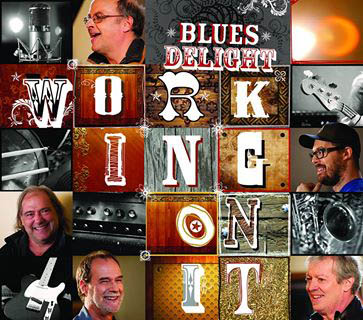 In 2006, I started a very special project that was on my mind for some time now: compose a piece of music for each month of the year. I've completed the project in 2013 and you can find it here, in the section called "Store".
In 2009, I had the immense pleasure to compose and produce music to serve as a soundtrack and rhythm practice on my daughter's DVD: "Golf-Tonus" PTMT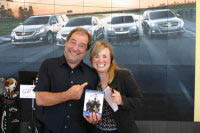 That was really nice to work with Sylvie…
In 2013, I met a gang of old chums that played together in the 70's, but had put it aside for a good 30 years .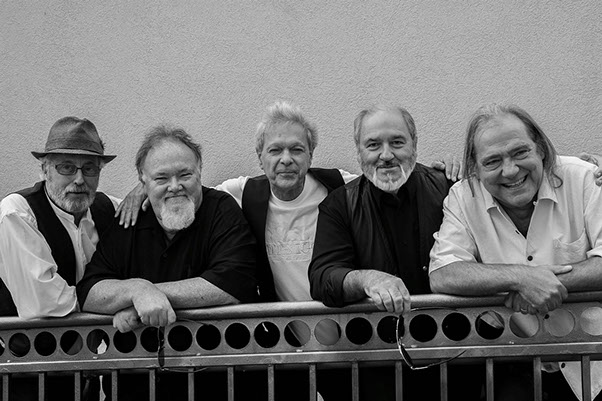 "Les Crackpops" have nice song sets that can get the party started and going for a long time!!! Be it a backyard, a school auditorium or an outside stage, music from the 60's is always shining through. Always simple, never complicated…