In August 1969 I had my first professional contract as a drummer. I accompanied the singer Pierre Létourneau with Louis-Philippe Pelletier on piano. The first gig took place at the Fisherman's house in Percé, Qc.
In September, I entered the Conservatory of Music in Montreal. I was a full-time student and studied percussion with Louis Charbonneau until 1974. I got a graduate degree in 73 and finally a First prize in classical percussion in 74.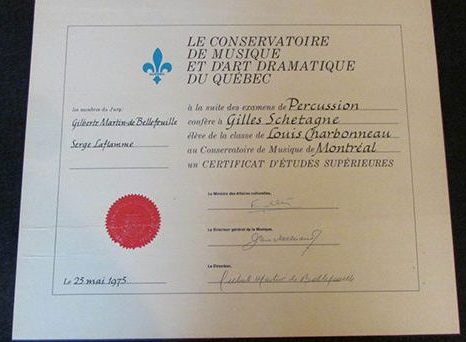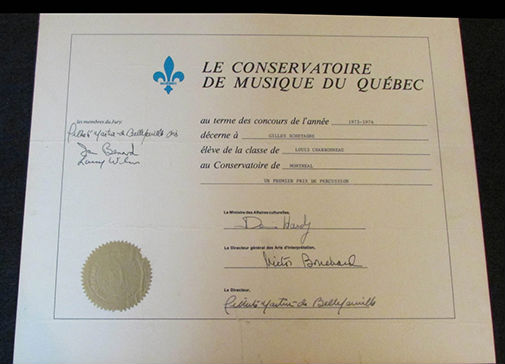 I had to meet my basic needs. So I started to teach a bugle corp called "Canadians of Montreal." The trumpet instructor was Luc Caron (who already had a career as a musician) and I, was taking care of the percussion section. The band played dance music on weekends. I was paid $8 for each practice (average 3 per week) and Pierre Létourneau gave me $50 per show (on average 1 or 2 per month and sometimes more). The apartment cost $28 per week, but we were 5 or 6 guys who were paying it.
When I was at the conservatory, I met Mathieu Léger and Paul Picard, who quickly became good friends. We did not play enough during the classes that we had; we just needed more. Paul was a jazz fanatic. He was listening to Max Roach, Mingus and others whose names I can't remember. Mathieu played with a band called "Lasting Weep" with Alain Bergeron, Jérôme Langlois and Claude Chapleau. He (Mathieu) invited me to their many gigs at the 'Café Gallery "or" Collège Brébeuf "as percussionist, because he was their drummer. ProgQuebec released a CD called: Lasthing Weep 1969-1971 MPM 18
I also met a guitar player named André Vézina. He introduced me to another guitar player: Marc Larochelle. His brother was a pianist, his name was Denis. They needed a drummer to play with Michel Conte (author, songwriter, dancer and choreographer). We toured the province in addition to a tour of France in 1971. This is when my son Sylvain was born February 9, 1971, which was on the day when we were suppose to return. But there was a delay. We got back on the 11th. As soon as I arrived at the airport in Dorval, I jumped into a taxi to go directly to the Christ-Roi hospital in Verdun.
During this tour we also met Monique Leyrac in Paris and it was the beginning of a new association that led us to other tours throughout Quebec and Canada. And then we (Marc, Denis and I) recorded a 45rpm with Michel Conte and a LP with Monique Leyrac..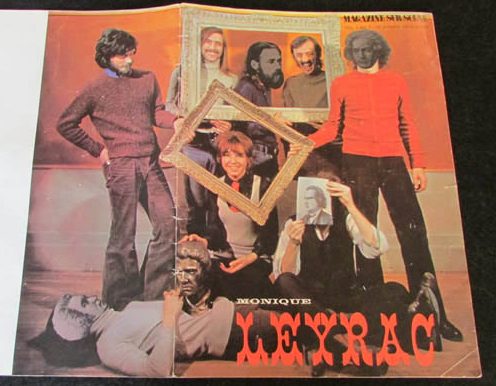 The other musicians that we see here with their face covered were the guys in the mythical group "Vos Voisins". The late Jacques Perron is in between me and Denis in the top frame.